Artys Transit provides a full range of specialized services for works of art and museum collections, ranging from removal, pick-up, packing and crating to transportation, installation and secure storage at controlled temperature and relative humidity of 50%, in compliance with professional museum standards.
An art transportation service that meets professional museum standards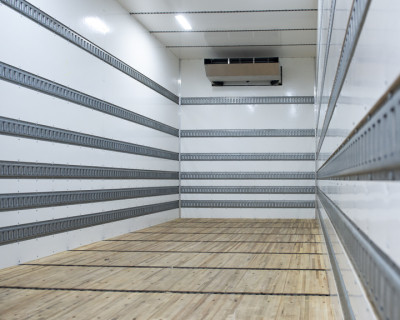 Our specialized artwork shipping service is intended for museums, galleries, artists, estate managers, auction houses, businesses and private collectors who appreciate the highest quality industry standards. Whether you need to transport paintings, sculptures, antiques, artifacts or any other unique and fragile pieces, we offer a complete range of services that meet the most stringent museum standards and safeguard the integrity of your works of art.
In addition, Artys Transit has a fleet of specially designed trucks used exclusively for transporting art. In keeping with current museum standards, our trucks are equipped with a temperature-controlled system, a GPS, an alarm system and an air suspension system to ensure the best possible transportation for your valuable goods. All our vehicles also come with a loading platform to make deliveries easier, regardless of location. Our fine art transport services are available locally across Quebec and Canada, as well as in the United States.
An experienced team of dedicated artwork shippers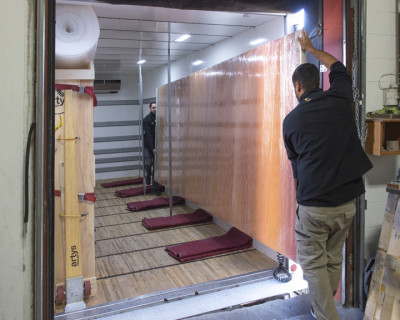 Whether you decide on a one-time or turnkey service, our staff will treat your artworks with the utmost care every step of the way.
Throughout the process, our team of professionals handles each piece of art with delicacy and attention to detail. Moreover, our dedicated staff comprises experienced drivers, technicians with a degree in museology and artists with the knowledge and skills needed to handle, pack, install, crate and transport paintings and other pieces of art. In total, our field team has over a century of collective expertise.
Given that each piece is unique, and that creativity knows no bounds, we can also look after artworks in non-standard formats. No matter the size, shape, medium or monetary value of the art to be transported, we always adopt the highest concern for precision and safety, both for your works of art and for our personnel.
Export your art internationally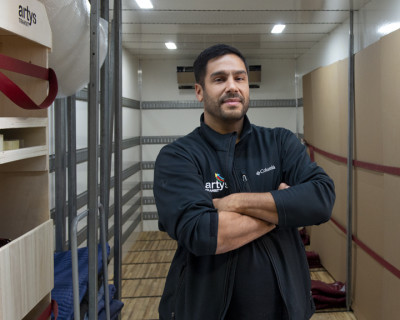 Do you have a project overseas and want to ship your paintings internationally? Then you've come to the right place! Artys Transit transports your artworks and prominent museum collections to the four corners of the globe. We offer international art transportation services by air or by sea, depending on your needs, budget and timeline.
Our facilities and teams have been approved by Transport Canada for Air Cargo Security, which allows us to secure the artworks and avoid risky handling when we release your cargo to the airlines. For maritime transport, we load the containers ourselves using cushioning materials that comply with international phytosanitary standards for the safe and regulatory shipment of your most beautiful artistic pieces.
Client service is our main priority. Our logistics experts in international art and museum transportation will advise you and propose the best possible solutions to provide a hassle-free fine art shipping service, regardless of the destination of your next exhibition.
Artys Transit is very proud to help shine the spotlight on our artists worldwide and assist the arts and culture community with the arrival of the most prized collections on our territory.