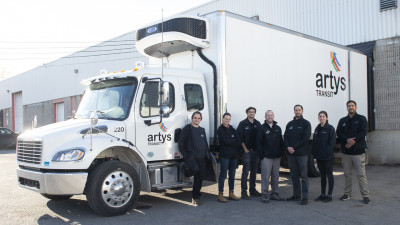 Artys Transit brings Quebec culture to the world!
Founded in 2009, Artys Transit is a Quebec-based company committed to serving art and culture. Our team comprises museum technicians, drivers and artists with extensive experience in handling, packing, crating, storing and transporting artworks, exhibitions and shows.
With our logistics team, we have established a regular shuttle service schedule from Montreal to Quebec City, Ottawa and New York, and are currently working on adding more destinations very soon. All other destinations in Eastern North America are accessible with our dedicated transport trucks. We also see to all customs formalities.
Serving the fine arts and museum industry
Our custom crates and packing are designed to meet the needs and budget of our clientele. Moreover, our museum-quality service is suitable for both art galleries and private collectors. Teaming up with our network of partners, we can handle a wide range of complex transportation and installation projects. Our trucks and warehouses meet professional museum standards, allowing us to ensure the safe logistics of your valuable goods from pick-up to destination.
Serving the entertainment and events industry
Our wide-ranging expertise also serves artists from the event industry. From a one-time performance to the complete management of a tour, our range of specialized transport and logistics services for equipment and stage material is perfectly geared to singers, orchestras, and theatre, circus and dance troupes, as well as larger-scale performances – not to mention international tours! Artys Transit's know-how can guide you anywhere in the world with our vast network of experts ready to assist you once you reach your destination.