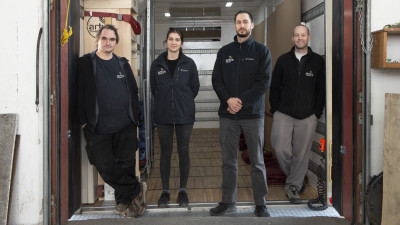 A job like no other
Artys Transit is growing rapidly and always looking for top-notch talent. Among our employees are logistics experts, class 1 and 3 drivers and museum technicians. Our experienced and knowledgeable staff are proud to serve the fast-paced museum sector and arts and entertainment industry in an efficient and professional manner. Clients entrust us with unique shipments as well as complex installation and packing projects that are both challenging and gratifying.
We promote teamwork, know-how and training while making sure that every team member has fun. Positions can be full or part time with fixed or variable hours. Salaries are competitive and benefits are also available. Whatever your career goals, Artys Transit may have a job that's just right for you. Feel free to get in touch with us.
Browse our current job openings:
Logistics Coordinator

Artys Transit is expanding and seeking a dynamic person with good interpersonal and organizational skills to fill a transportation coordination position. Duties include answering and following up with clients and coordinating their requests with the driver and technician teams. Artys Transit offers a unique chance to work closely with the arts and museum sector.

Museology Technician

Artys Transit is growing rapidly and looking for a motivated technician to join its highly collaborative and knowledgeable team. We offer full-time employment, an exciting career opportunity, a very competitive salary and benefits, and a variety of challenging tasks and projects.

Class 1 or 3 Driver

We are looking for a versatile and energetic individual to join our expanding team as a Class 1 or 3 driver. Applicants must have a valid driver's license and be authorized to drive in the United States. An affinity for the arts, a hands-on attitude and work schedule flexibility are considered important assets.